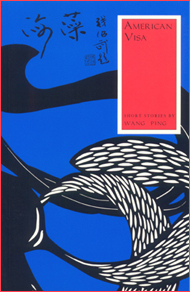 - Contents & Excerpt
- Ordering Information

Translations include
Dutch and Japanese.
AMERICAN VISA

"Wang uses the first-person voice of a young woman named Seaweed to tell of the depredation of the People's Revolution... She has mastered a conversational tone that seems graceful and effortless..." - Kirkus Review

"In these moving, heartrending stories, told with amazing honesty, Wang Ping has captured the immigrant Chinese experience. Seaweed's journey from the emotional and intellectual wasteland of China during the Cultural Revolution to the anonymity and despair of New York is truly memorable. Wang takes her character's dreams and delusions and renders them with warmth and humor." - Mary Morris, author of A Mother's Love

"American Visa is an astonishing piece of writing. Its direct unsentimental prose offers a portrait of Chinese family life and what it means to be a woman in China. As Seaweed moves from home, to a peasant village, to New York, we are moved by this record of suffering and persistence, of the desperate desire to move beyond the family and yet remain within it." - Colin MacCabe, The British Film Institute

A 1996 Book for the Teen Age - The New York Public Library

Book design and cover art by Nora Koch. Cover calligraphy by Qian Shao Wu. Back cover photograph by Rudy Burkhardt.