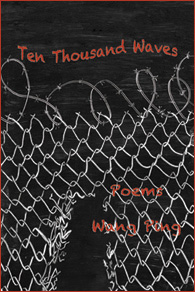 Looking at a wide swath of Chinese history and literature, Wang Ping conveys the voices of centuries of farmers and factory laborers, immigrants, revolutionaries, writers, artists, and craftsmen. The titular poem, "Ten Thousand Waves," was inspired by a tragedy that occurred on February 5, 2004, when more than twenty Chinese laborers drowned in Morecambe Bay, England, as they were caught by an incoming tide. They were collecting cockles late in the evening, having been misinformed about the tidal times. The victims were undocumented immigrants, mainly from Fujian Province, China.

In the process of writing the poems included in this collection, filmmaker Isaac Julien commissioned Ping to write a narrative script for his film on global immigration, Small Boats. When he saw the finished poem, Julien decided to make a film installation specifically on Chinese immigration, which he entitled Ten Thousand Waves, after Ping's poem. Ten Thousand Waves has been featured at the Pace Foundation galleries in San Antonio, Texas, and at the Museum of Modern Art in New York.

Read more about Ten Thousand Waves (Copyright 2014, Wings Press).