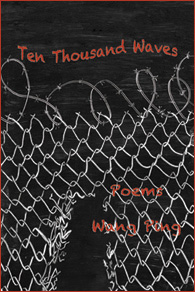 Cover and interior monoprints by Ruthann Godollei.

- Ordering Information


TEN THOUSAND WAVES

Looking at a wide swath of Chinese history and literature, Wang Ping conveys the voices of centuries of farmers and factory laborers, immigrants, revolutionaries, writers, artists, and craftsmen. The titular poem, "Ten Thousand Waves," was inspired by a tragedy that occurred on February 5, 2004, when more than twenty Chinese laborers drowned in Morecambe Bay, England, as they were caught by an incoming tide. They were collecting cockles late in the evening, having been misinformed about the tidal times. The victims were undocumented immigrants, mainly from Fujian Province, China.

In the process of writing the poems included in this collection, filmmaker Isaac Julien commissioned Ping to write a narrative script for his film on global immigration, Small Boats. When he saw the finished poem, Julien decided to make a film installation specifically on Chinese immigration, which he entitled Ten Thousand Waves, after Ping's poem. Ten Thousand Waves has been featured at the Pace Foundation galleries in San Antonio, Texas, and at the Museum of Modern Art in New York.

"This is what the highest poetry is for, a bearing witness that translates, transforms, and humanizes; an act of imaginative creation that is simultaneously one of accurate transcription. In beautiful English that dances between poem and short story, text and documentary film, I am brought close to so many Chinese brothers and sisters in this world. Ten thousand voices that are our one voice. Their desires and despair, their horses and poets, their men and women, their clothes and fingers become part of who I am." - Fady Joudah, author of the The Earth in the Attic (Yale Series of Younger Poets)

"Science says there is only so much water in our world: the same water recedes, recirculates, ravages, recovers, recultivates, returns, remembers, sometimes redeems. The ten thousand waves of these poems are moved by the countless tongues of those whose suffering and hope crest daily in the water making poison rainbows at their feet, in the dust becoming mud in their lungs, in the earthen jug saving coins for a grandchild's schooling. These poems tell us their water is our water; their waves, our waves. That we must listen. Imagine. Make waves in return." - Rosemary Catacalos, author of Begin Here and Again for the First Time Poet Laureate of Texas

"Wang Ping hears voices. Ten Thousand Waves is a collection of ghosts, and the voices of the dead and the living fall from the page into your lap. Her book could be called a snapshot of modern China, but that does not explain the way it supersedes geopolitical or economic definition. This collection shows China from the ground up. Everyone, even the soil, is speaking, and the voices all jostle for position over the background hum of China and America. Wang Ping has brought us all together, even if we don't yet know it." - Neil Hilborn, author of Clatter and the viral poem "OCD"